YMF715E
OPL3-SA3
OPL3 Single-chip Audio System 3
OUTLINE
YMF715E-S (OPL3-SA3) is a single audio chip that integrates OPL3 and its DAC, 16bit Sigma-delta
CODEC, MPU401 MIDI interface, joystick port, and a 3D enhanced controller including all the analog
components which is suitable for multi-media application. This LSI is fully compliant with Plug and Play
ISA 1.0a, and supports all the necessary features, i.e. 16bit address decode, more IRQs and DMAs in
compliance with PC'96. This LSI also supports the expandability, i.e. Zoomed Video, Modem and CD-
ROM interface in a Plug and Play manner, and power management (power down, power save, partial
power down, and suspend/resume) that is indispensable with power-conscious application.
FEATURES
Built-in OPL3 (FM-synthesizer)
Supports Sound Blaster Game compatibility
Supports Windows Sound System compatibility
Supports Plug & Play ISA 1.0a compatibility
Built-in MPU401 Compatible MIDI I/O port
Built-in the 3D enhanced controller including all the analog components
Supports multi-purpose pin function
(Support 16-bit address decode, DAC interface for OPL4-ML/ML2, Zoomed Video port, EEPROM
interface, MODEM interface, IDE CD-ROM interface)
Hardware and software master volume control
24 mA TTL bus drive capability
Supports Power Management(power down, power save, partial power down, and suspend/resume)
+5V/ +3.3V power supply for digital, 5V power supply for analog.
100 pin SQFP package (YMF715E-S)
The contents of this catalog are target specifications and are subject to change
without prior notice. When using this device, please recheck the specifications.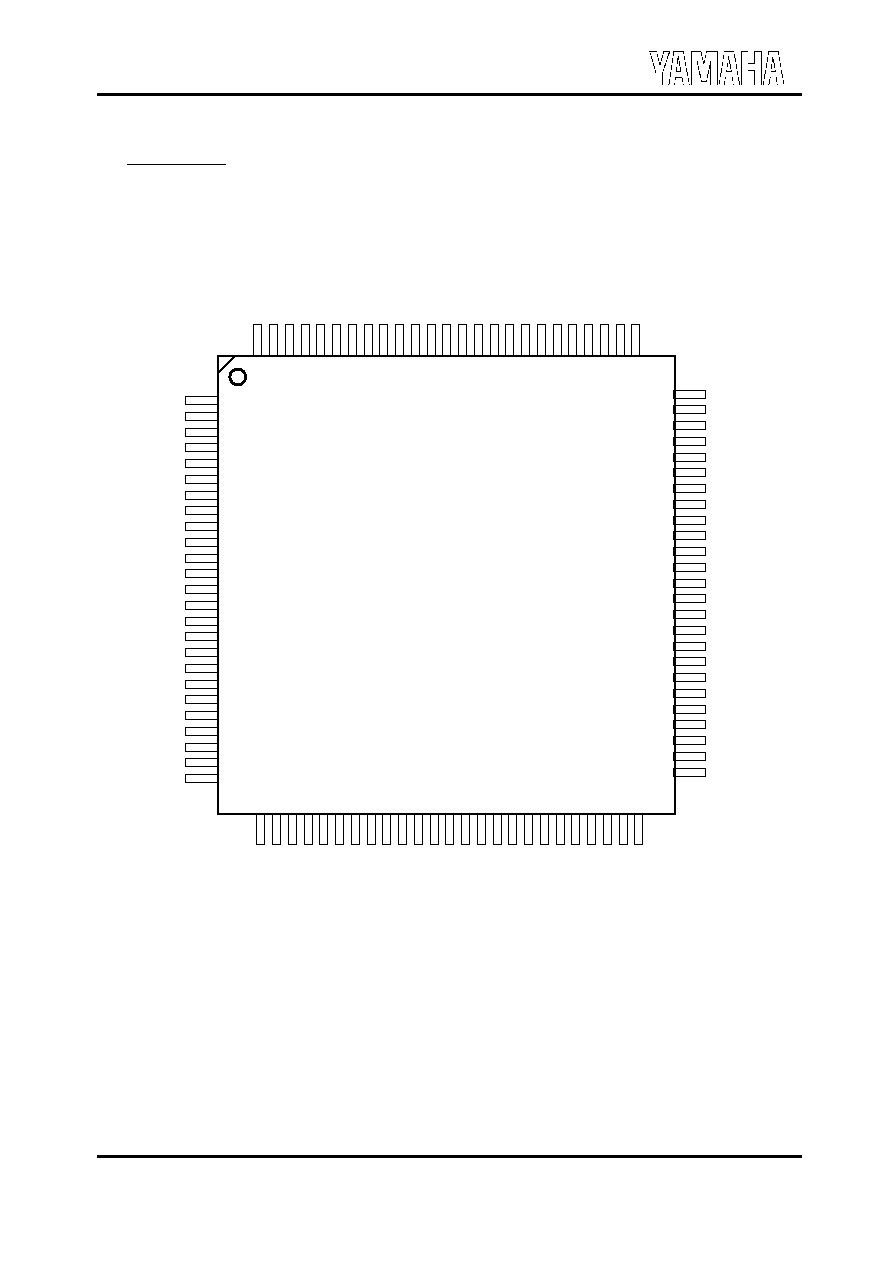 YMF715E
PIN CONFIGURATION
100 pin SQFP Top View
1
2
3
4
5
6
7
8
9
10
11
12
13
14
15
16
17
18
19
20
21
22
23
24
25
75
74
73
72
71
70
69
68
67
66
65
64
63
62
61
60
59
58
57
56
55
54
53
52
51
I
L
I
R
ADFLTR
DVSS
SEL0
SEL1
SEL2
MP0
MP1
MP2
MP3
MP4
MP5
MP6
MP7
MP8
MP9
DVDD
/VOLUP
/VOLDW
A0
A1
A2
X33O
X33I
X24O
X24I
GP0
GP1
GP2
GP3
GP4
GP5
GP6
GP7
A11
A10
IRQ3
IRQ5
IRQ7
IRQ9
IRQ10
IRQ11
/
D
/
D
/
D
YMF715E
ISA bus interface: 36 pins
Analog Input & Output : 24 pins
Right mixed analog output
Left SYNDAC sample / hold capacitor
Right SYNDAC sample / hold capacitor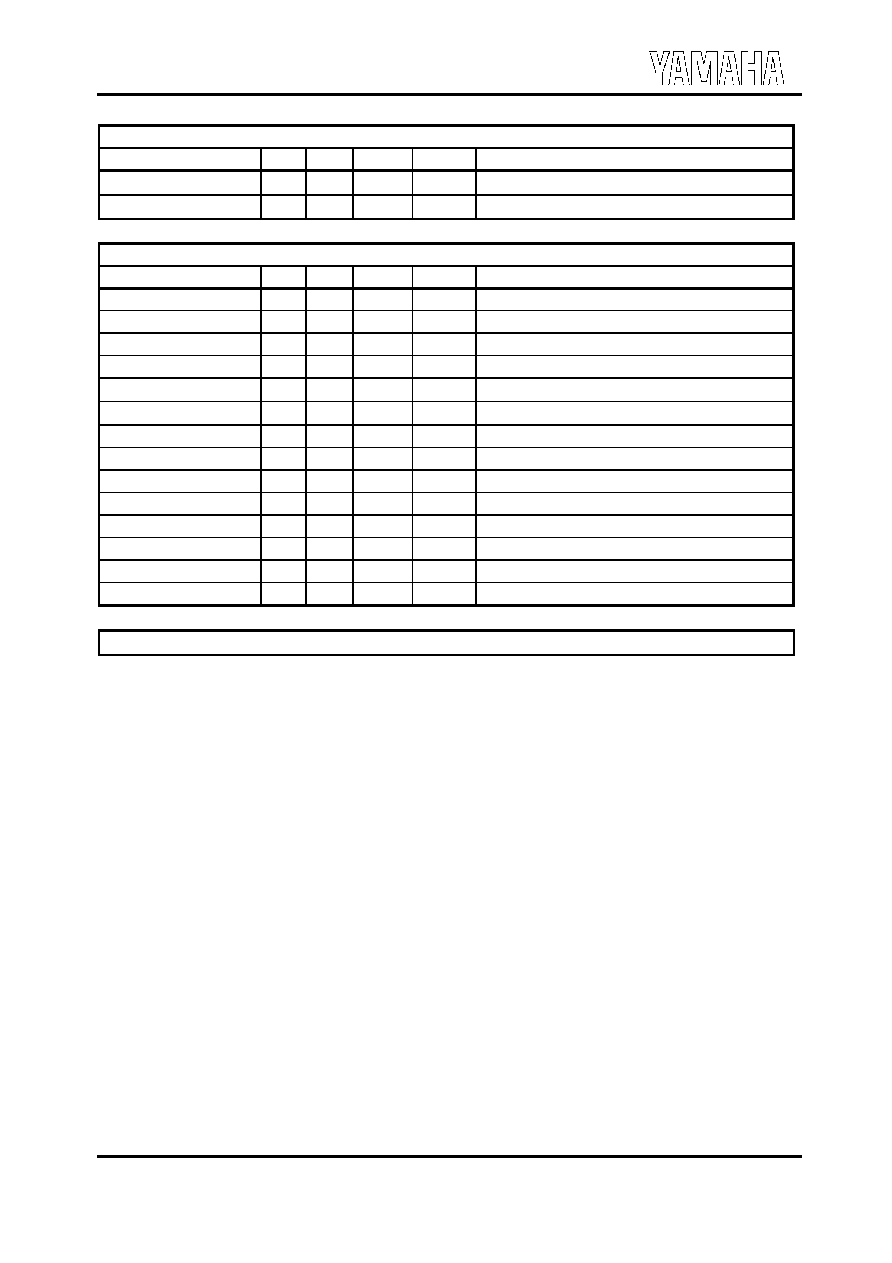 YMF715E
Multi-purpose pins : 13 pins
Refer to "Multi-purpose pins" section
Refer to "multi-purpose pins" section
Others : 27 pins
Analog Power Supply (put on +5.0V)
Digital Power Supply (put on +5.0 V or +3.3V)
Total : 100 pins
Input Pin with Pull up Resistor
T: TTL-tri-state output pin
YMF715E
BLOCK DIAGRAM