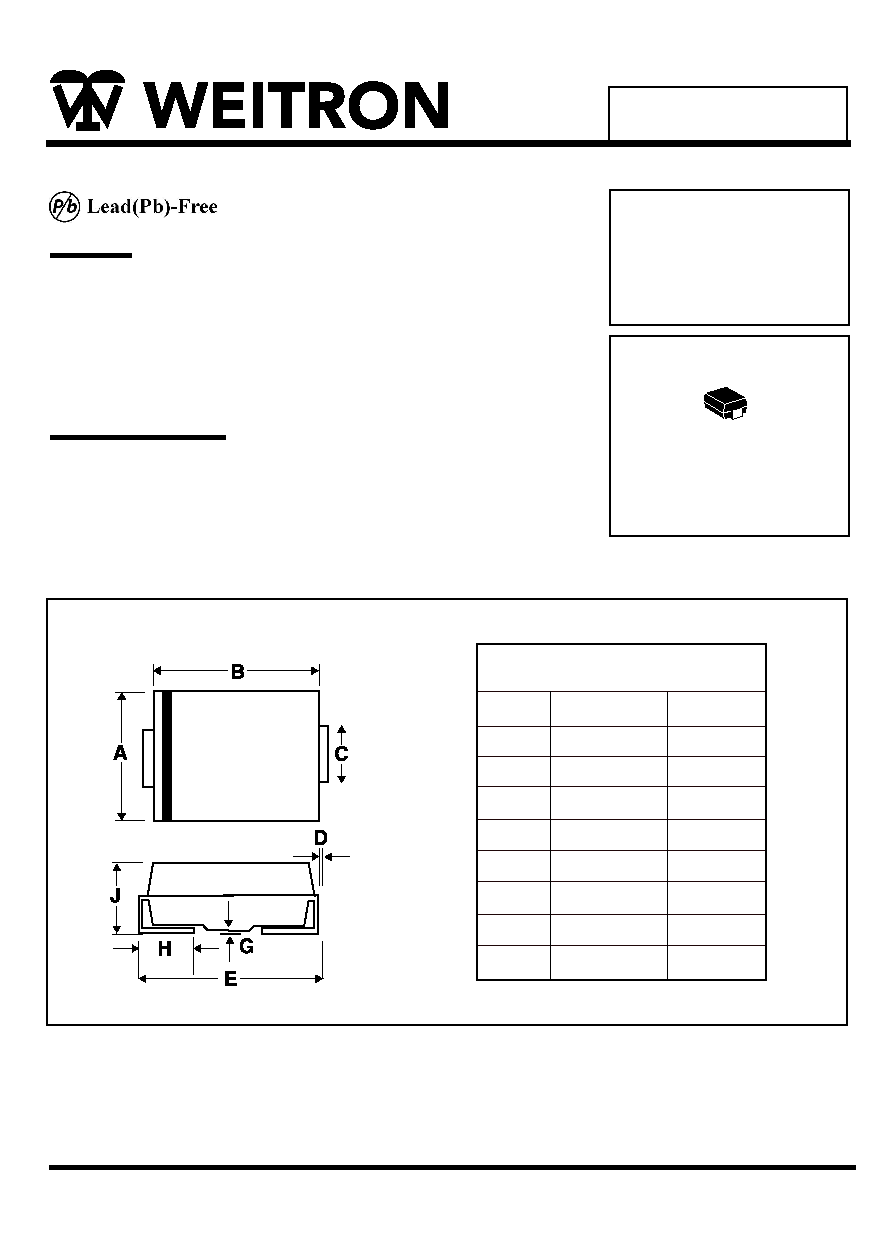 *For Surface Mount Application
*Metal-Semiconductor Junction With Guardring
*Epitaxial Construction
*Very Low Forward Voltage Drop
*High Current Capability
*Plastic Meterial Has UL Flammability Classification 94V-0
*For Use In Low , And Polarity Protection Applications
*Case : Molded Plastic
*Polarity :Indicated by cathode band
*Weight : 0.003 Ounce ,0.093 grams
REVERSE VOLTAGE
20 TO 60 VOLTS
FORWARD CURRENT
2.0 AMPERE
B220 thru B260
WEITRON
http://www.weitron.com.tw
SMB Outline Dimension
Mechanical Data
Feature:
SMB(DO-214AA)
Surface Mount Schottky Barrier Rectifiers
SMB
Dim
Min
Max
A
B
C
D
E
G
H
J
B220 thru B260
Maximum Ratings and Electrical Characteristics
Characteristics
B220 B230 B240 B250 B260
Symbol
Unit
Maximum Recurrent Peak Reverse Voltage
Maximum DC Blocking Voltage
Rectified Current @TC=100 C
Peak Forward Surge Current,
8.3 ms Single Half Sine-Wave
Superimposed on Rated Load (JEDEC Method)
Maximum Instantaneous At 2.0A DC
Maximum DC Reverse Current @Tj=25 C
At Rated DC Blocking Voltage @Tj=100 C
Typical Junction Capacitance (Note 1)
Typical Thermal Resistance (Note 2)
Operating Temperature Range
Storage Temperature Range
V
V
V
Rating 25 C Ambient Temperature Unless Otherwise Specified.
Single Phase Half Wave, 60Hz , Resistive or Inductive Load.
For Capacitive Load, Derate Current by 20%.
NOTES:1.Measured at 1.0MHz applied reverse voltage of 4.0V DC.
2.Thermal Resistance Junction to case.
http://www.weitron.com.tw
WEITRON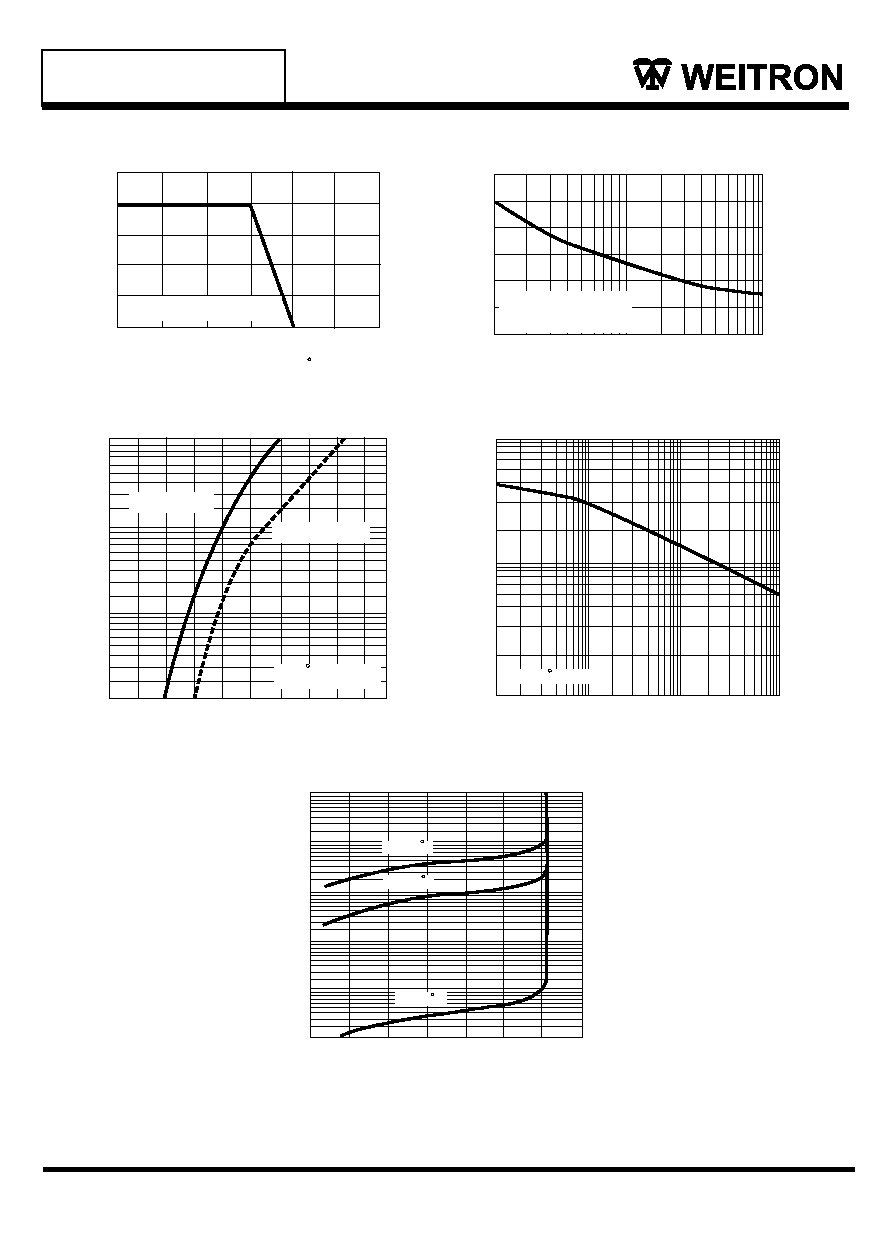 B220 thru B260
FIG.5 TYPICAL REVERSE CHARACTERISTICS
PERCENT OF RATED PEAK REVERSE VOLTAGE, (%)
I
N
S
T
A
N
T
A
N
E
O
U
S

R
E
V
E
R
S
E

C
U
R
R
E
N
T

,
(
m
A
)
FIG.3 TYPICAL FORWARD CHARACTERISTICS
INSTANTANEOUS FORWARD VOLTAGE, (VOLTS)
I
N
S
T
A
N
T
A
N
E
O
U
S

F
O
R
W
A
R
D

C
U
R
R
E
N
T
,
(
A
) 10
REVERSE VOLTAGE , (VOLTS)
C
A
P
A
C
I
T
A
N
C
E

,

(
p
F
)
FIG.4 TYPICAL JUNCTION CAPACITANCE
FIG.1 FORDWARD CURRENT DERATING CURVE
LEAD TEMPERATURE , C
SIGNE PHASE HALF WAVE 60Hz
RESISTIVE OR INDUCTIVE LOAD
A
V
E
R
A
G
E

F
O
R
W
A
R
D

C
U
R
R
E
N
T

A
M
P
E
R
E
S
FIG.2 MAXIMUM NON-REPETITIVE SURGE CURRENT
NUMBER OF CYCLES AT 60Hz
P
E
A
K

F
O
R
W
A
R
D

S
U
R
G
E

C
U
R
R
E
N
T
,

A
M
P
E
R
E
S
WEITRON
http://www.weitron.com.tw
30