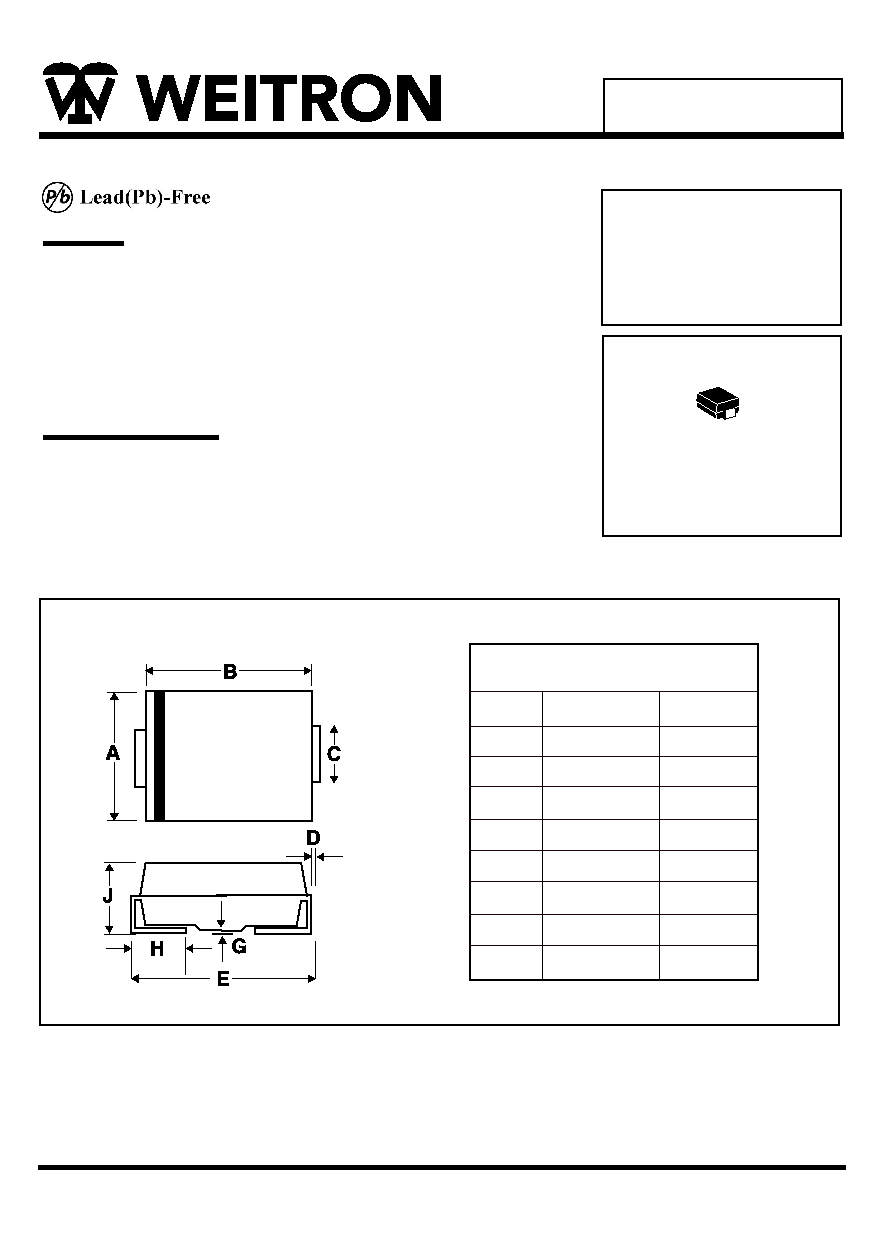 *For Surface Mount Application
*Metal-Semiconductor Junction With Guardring
*Epitaxial Construction
*Very Low Forward Voltage Drop
*High Current Capability
*Plastic Meterial Has UL Flammability Classification 94V-0
*For Use In Low , And Polarity Protection Applications
*Case : Molded Plastic
*Polarity :Indicated by cathode band
*Weight : 0.003 Ounce ,0.093 grams
REVERSE VOLTAGE
20 TO 60 VOLTS
FORWARD CURRENT
1.0 AMPERE
B120B thru B160B
SMB
SMB Outline Dimension
http://www.weitron.com.tw
Mechanical Data
Feature:
SMB(DO-214AA)
Surface Mount Schottky Barrier Rectifiers
WEITRON
Dim
Min
Max
A
B
C
D
E
G
H
J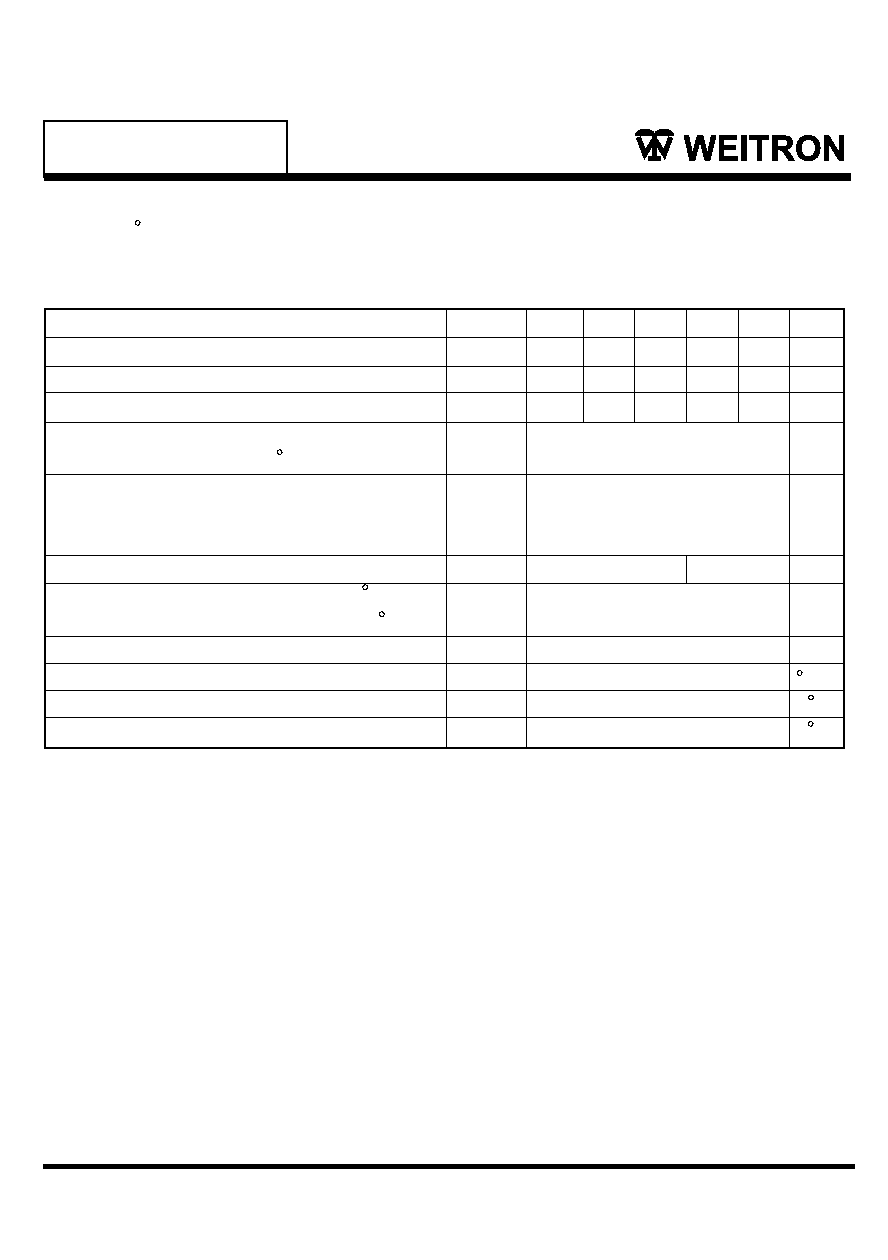 B120B thru B160B
Maximum Ratings and Electrical Characteristics
Characteristics
B120B B130B B140B B150B B160B
Symbol
Unit
Maximum Recurrent Peak Reverse Voltage
Maximum RMS Voltage
Maximum DC Blocking Voltage
Maximum Average Forward
Rectified Current @TC=100 C
Peak Forward Surge Current,
8.3 ms Single Half Sine-Wave
Superimposed on Rated Load (JEDEC Method)
Maximum Instantaneous At 1.0A DC
Maximum DC Reverse Current @Tj=25 C
At Rated DC Blocking Voltage @Tj=100 C
Typical Junction Capacitance (Note 1)
Typical Thermal Resistance (Note 2)
Operating Temperature Range
Storage Temperature Range
V
V
V
C
C
Rating 25 C Ambient Temperature Unless Otherwise Specified.
Single Phase Half Wave, 60Hz , Resistive or Inductive Load.
For Capacitive Load, Derate Current by 20%.
NOTES:1.Measured at 1.0MHz applied reverse voltage of 4.0V DC.
2.Thermal Resistance Junction to case.
http://www.weitron.com.tw
WEITRON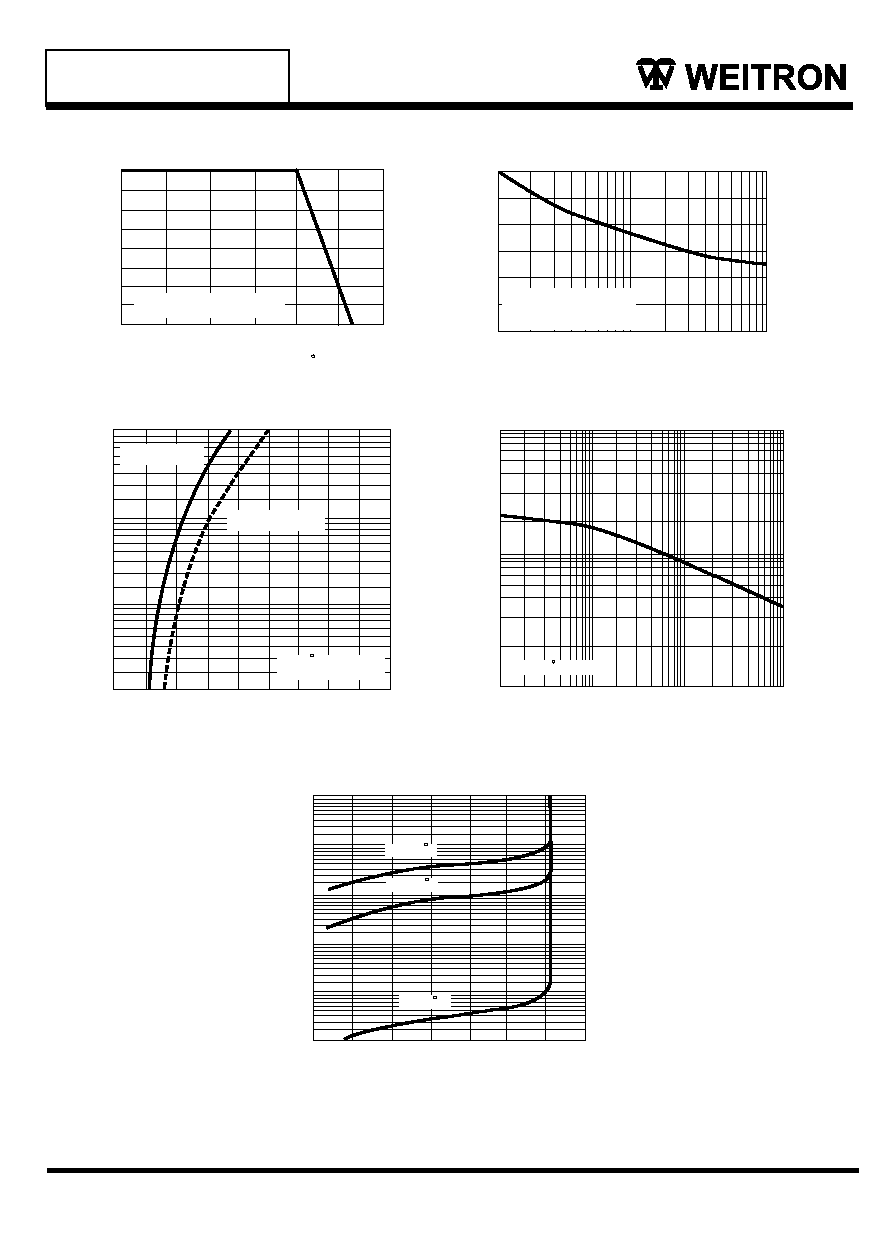 B120B thru B160B
FIG.5 TYPICAL REVERSE CHARACTERISTICS
PERCENT OF RATED PEAK REVERSE VOLTAGE, (%)
I
N
S
T
A
N
T
A
N
E
O
U
S

R
E
V
E
R
S
E

C
U
R
R
E
N
T

,
(
m
A
)
FIG.3 TYPICAL FORWARD CHARACTERISTICS
INSTANTANEOUS FORWARD VOLTAGE, (VOLTS)
I
N
S
T
A
N
T
A
N
E
O
U
S

F
O
R
W
A
R
D

C
U
R
R
E
N
T
,
(
A
) 10
REVERSE VOLTAGE , (VOLTS)
C
A
P
A
C
I
T
A
N
C
E

,

(
p
F
)
FIG.4 TYPICAL JUNCTION CAPACITANCE
FIG.1 FORDWARD CURRENT DERATING CURVE
LEAD TEMPERATURE , C
SIGNE PHASE HALF WAVE 60Hz
RESISTIVE OR INDUCTIVE LOAD
A
V
E
R
A
G
E

F
O
R
W
A
R
D

C
U
R
R
E
N
T

A
M
P
E
R
E
S
FIG.2 MAXIMUM NON-REPETITIVE SURGE CURRENT
NUMBER OF CYCLES AT 60Hz
P
E
A
K

F
O
R
W
A
R
D

S
U
R
G
E

C
U
R
R
E
N
T
,

A
M
P
E
R
E
S
WEITRON
http://www.weitron.com.tw