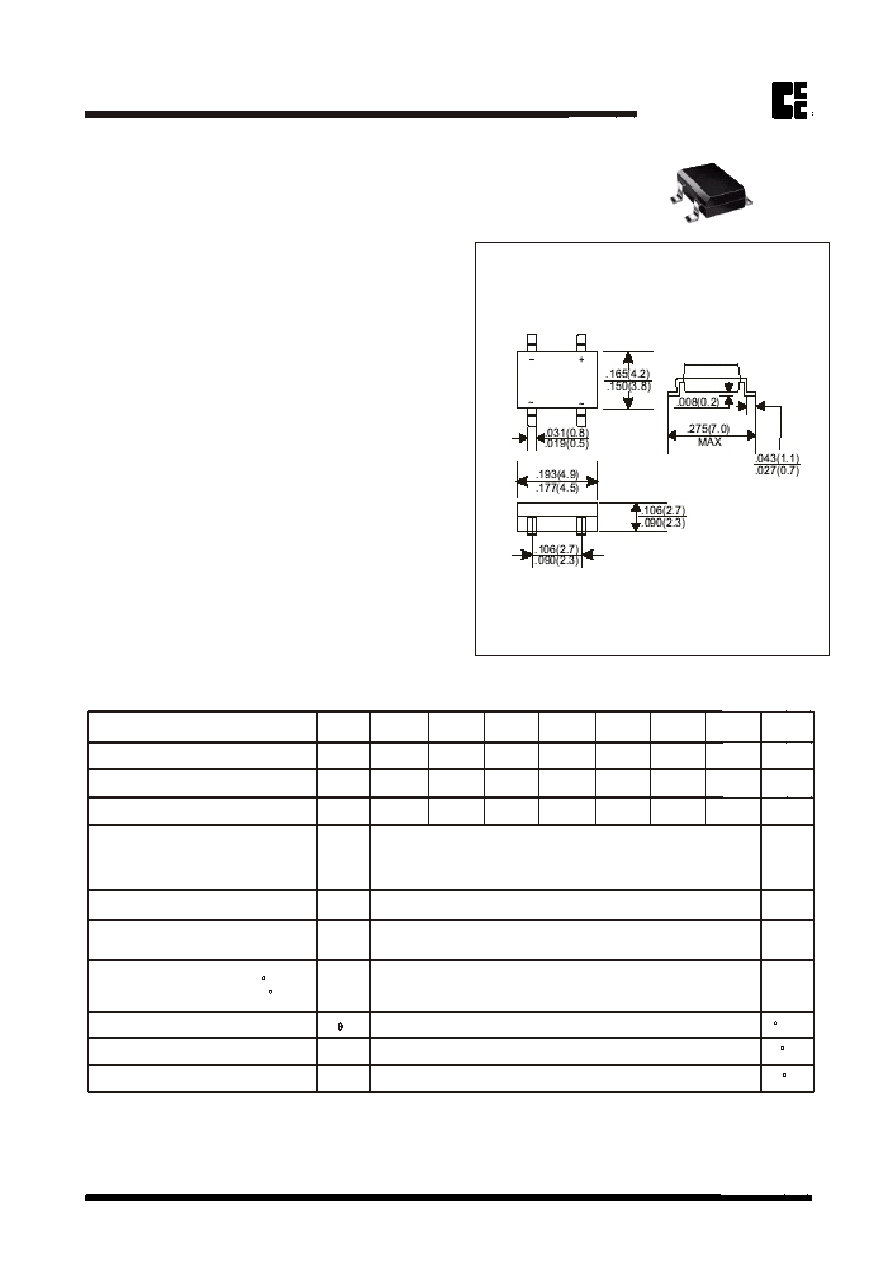 Glass Passivated Type
Reverse Voltage: 50 - 1000 Volts
Forward Current: 0.5 Amp
B05S
GS Thru B10SGS
Features
Ideal for surface mount applications
Plastic package has Underwriters Lab.
flammability classification 94V-0
Mechanical data
Case: JEDEC DO-269AA molded plastic
Terminals: solderable per MIL-STD-750,
SMD Genenal Purpose Bridge Rectifier
SMD Genenal Purpose Bridge Rectifier
Parameter
Max. Repetitive Peak Reverse Voltage
Peak Surge Forward Current
8.3ms single half sine-wave
superimposed on rate load
( JEDEC method )
Max. Average Forward Current
Max. Instantaneous Forward Current
at 0.5 A
Max. DC Reverse Current at Rated DC
Blocking Voltage Ta=25
Ta=125
Max. Thermal Resistance (Note 1)
Operating Junction Temperature

Storage Temperature
Symbol
V

R
Maximum Ratings and Electrical Characterics
Unit
A


V

Note 1: Thermal resistance from junction to ambient.
100

70
5
500
B05S
GS B1SGS B2SGS B4SGS B6SGS B8SGS B10SGS
Dimension in inches and (millimeters)
TO-269AA
Rating and Characteristic Curves (B05S
SMD Genenal Purpose Bridge Rectifier
SMD Genenal Purpose Bridge Rectifier
Fig. 4 - Current Derating Curve
r
a

F
r
w
r
d

C
r
r
e
t

(

A

)
r
w
r
d

C
r
r
e
t

(

A

)
Fig.2 - Forward Characteristics

S
r
g

F
r
w
r
d

C
r
r
e
t

(

A

)
Fig. 3 - Non Repetitive Forward
Surge Current
Single Phase
Half wave 60Hz
Resistive or inductive Load
8.3mS Single Half Sine
Wave JEDEC methode
Fig. 1 - Reverse Characteristics
r
s

C
r
r
e
t

(

u

)
Percent of Rated Peak Reverse Voltage (%)
0 20 40 60 80 100 120 140
0 0.2 0.4 0.6 0.8 1.0 1.2 1.4
0 25 50 75 100 125 150 175